True Stories
"September 24,2015
Re: Catherine Thomas BSED, MFA&GCFD
I have known Catherine Thomas for over 15 years and it is with great pleasure that I recommend her services and expertise especially in working with psychiatric patients struggling in therapy. Patients may have somatic obstacles which would be suited to her expertise. She works with all ages from infancy to elders.She has been working with patients for more than 20 years. Some of the diagnostic categories which have responded well to her interventions would include Dementia,Strokes,Movement disorders, Brain injuries, Learning disabilities and Abuse of all etiologies. Catherine is a true healer and provides for your patients a very important resource to improve their daily functioning.
Leonora K Petty M.D. FAPA"
"Cate worked with me over the phone, as I am quite a distance from California. She has an uncanny way of seeing and knowing what is going on with an individual, and she guided me through some profound insights and helped resolve some difficult situations. She is especially gifted in this way, very intuitive and has a wealth of knowledge and wisdom. I feel lighter and more joyful, and I highly recommend her and the work she does. You will come away with more clarity, more joy and more peace."

-Anne McB, Ohio
"After just two sessions with Cate, I feel that I am beginning a fabulous adventure! My back has not been painful for 24 hours! This journey is well worth the investment! Thanks Cate!
– Liz, Age 55, Santa Rosa
"Incredible beyond the beyond, Cate brings honor to anything she does!"
– Heather, Age 63, Santa Rosa
"I never even noticed not needing the cane so much, I was walking without it after Catherine's class and I just felt normal!"
-Vera, Age 90, Santa Rosa
"I was diagnosed wit severe bilateral stenosis in my neck and was faced with disability, severe pain and a prognosis of surgery and disability. I have been working with Catherine for four months and I am no longer eligible for surgery! I am out of pain, working again and really, my life from here has been saved. Thank you Catherine!"
-Nick Johnson
"I came to Catherine's Yoga/Movement class to rehabilitate my knee and now I have full movement!"
-Anonymous
"It was an honor that I had the opportunity to meet someone with such great depth and transparency. I often feel most people are masked, and to have a true authentic exchange is very rare."Joella
"…I have worked with Catherine for almost a year now both as a private client and as a student in her movement class. I am impressed with the depth of her knowledge of the human body and how it works and her ability to put that knowledge to work in assisting people in healing. I have been so pleased with the results of our work together that I have referred both clients and students of mine to Catherine for private Lessons…"
-Julia Rinne
"(My lesson) was great…I never knew that low back pain could melt in such a happy and pleasurable way. To unravel so quickly my walking patterns from early childhood was remarkable! Catherine's teaching is compassionate and concise, Thank You."
-Anonymous Patient.
"We really appreciate Catherine's Yoga through Feldenkrais classes. She is the best and we truly appreciate her teaching methods and personality."
Norma And Robert Neal
"I have been doing Feldenkrais work with Catherine Thomas for about 3 years now. The main purpose was to improve the functionality of body for riding horses in Dressage. My body has gone through some dramatic changes in those years. My body feels far younger than when I started, and I am starting to do more advanced Feldenkrais movements. With the work, we keep removing old habitual elements in my body. The asymmetry of my body has been corrected, I have far more movements in my hips, pelvis, and spine. I never have back issues and one of the dressage trainers I have worked with many years ago was amazed at my transformation and the progress I have made just from the work I have done with Catherine.

With some of the issues I have had, Catherine's hands on work have just melted away the issue in just one session.Now, I have meant to use the lessons taught by Catherine to progress and maintain what I have improved on. I will probably use Feldenkrais the rest of my life. I now see in other people the issues I have had most of my life but that have disappeared in me using Feldenkrais. Every lesson peels another layer of the onion of my body and I discover more about how my body really should function."-Jim, 2010
"Dear Catherine,
Many Thanks for the wonderful program you gave our senior class. You are a gifted teacher and I had many favorable comments about your presentation. Its great to know we have you in our community."Teresa Cahill
"When I came to see Catherine for Feldenkrais lessons, I had 2 preexisting injuries from three years ago. The first was a hip injury from surgery, and the other a shoulder and ankle injury from a recent motorcycle spill. Within the first month of Catherine's lessons the old hip injury lessened and seemed to disappear. It is simply not a problem anymore.
     I began treatments in July of 2006. With the motorcycle accident, I had torn tendons in the ankle and a torn rotator cuff in shoulder. Over a period of 4-5 months, I had lessons every other week. Relief came rather quickly. I had almost immediate signs of relief with signs of recovery which eliminated the need for surgery or disability from work. I was able to work to full capacity within a short amount of time. I highly recommend Catherine's sessions and I am so indebted to her. Because my job is so physical, it was essential to heal. I would not hesitate coming back for maintenance and for more lessons in general."
Dennis Welsh, Max Tile, Petaluma, 2006
"…Over the past 5 years I have turned to Catherine for help with a broken foot (I slipped off the horse trailer; she taught me to manage crutches and walk again,) an upper arm injury (the horse took off and I forgot to let go; she helped me regain strength, organization,alignment and mobility,) and after my gastrointernist perforated my colon during a routine colonoscopy (too painful to recount), through her nutritional care I healed in a number of weeks rather than years! My overall riding has improved greatly and I no longer wear my back brace to be upright!

Catherine has great analytical and communication skills. She is compassionate, has a great sense of humor and is a delight to work with…"

Sincerely, Marian J. Berg, Napa, Ca, Estate Accountant and Dressage Rider 2006

"I had arrived to the first lesson with a splitting headache, and plans only to stay for a few moments. The session ended before I knew it and I felt like I could do anything. My body felt completely relaxed and my mind clear."
Kathy Q. 1998 , Pianist and Teacher

"For the past 4 years, I have had constant and chronic lower back pain. I had had surgeries and was having to use pain relievers. I had tried just about everything. An orthopedic doctor at Kaiser suggested I try Feldenkrais. I wasn't even sure what that was. Not too long after, I met Catherine Thomas, who happened to be a Feldenkrais Instructor. I was open to lessons, and we began working together. After just a couple lessons I began to feel some flexibility returning. A few more lessons after that and I began to notice an ongoing reduction in the daily pain level, as well as increased flexibility. As a professional who sits in a desk 8-10 hours a day, this improvement was not only welcome, but essential in the continuation of my practice. Even though someone may not be familiar with the Feldenkrais method, I recommend opening your mind and allowing Catherine to teach you new ways of movement, including getting to know your body from the inside out." You will be amazed, 
Matt Fannin, Certified Financial Planner, Santa Rosa 2006
Dear Catherine,
"I remember when Mom came to you for lessons, she was living in the nursing home.  I am so grateful that you were able to restore so much function for her in her last 2 years. She was able to come back to live with us for a time.  Without your skill, and your tender loving care, she would have been much less mobile, less coherent, and whatever we spent on her lessons during those two years with you was by far the best investment in her elder health care."
We thank you, Jane and Dave, Napa, Ca. 1996-8
Catherine,
"Our family is now normal because my baby was able to become functional thanks to your work with her. She started walking on her own today, and is able to hold her head up straight!"
Thanks again, Dr. H., M.D., mother of three
Recommendation for Cate S. Thomas. December 15th, 2008

"I would highly recommend Catherine Thomas as a Nutritionist, Health and Medical Advocate, Life Counselor, Feldenkrais Practitioner, Health care Manager, meal planner, dietitian, and friend. She was a wonderful help to my husband and me during his illness (prostate cancer) and was so understanding throughout the two year period of time. We both felt that his quality of life was so much better than it would have been without her dedication to finding the very best way of managing his care. We also felt that his life was quite extended because of her care!  We were even able to travel for months which allowed us to really be together.  We took several cruises, one to the British Isles and Wales where his family had originally been from, something he had always wanted to do, and another to the Mediterranean. We took smaller trips here on the west coast and we enjoyed ourselves together so much! I hold those memories so dearly. I feel he would not have been well enough to enjoy those experiences without her care.

Catherine was there to help make decisions, coordinate various modalities of treatment, carefully dovetailing standard medical options with alternative therapies as well. She went with us to many medical appointments, was diplomatic and won respect of physicians at Kaiser in Santa Rosa Oncology Department. She prepared me, so that I was able to fully embrace the process of accepting the possibility that Bill may pass into the hands of God. When there were obstacles, she found answers, always surprising since many of them were emergency situations! It was two years that we worked together closely; we became friends and Bill trusted her.
We continue to be friends after my husbands death in October of 2007, and I can see that other people could benefit from what Catherine offers. She is empathetic and kind, gentle and firm in a compassionate way, and takes the trauma out of a situation that could otherwise be devastating. When Bill passed away, she came to the services, she spent time with my family, and was very much present for me in every way. I am happy to recommend her to other families in need, for everyone benefits."

Ruth L. Jenkins
1209 Dillon Dr., Napa, C.A. 94558
(707) 253-8352
ruthljenkins@yahoo.com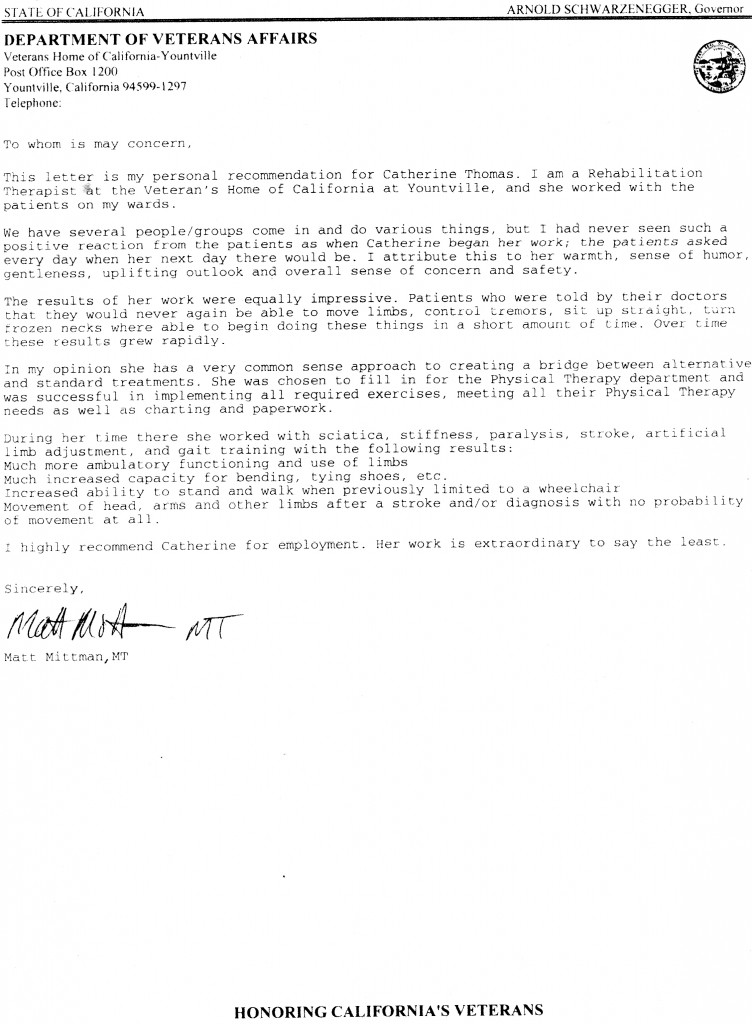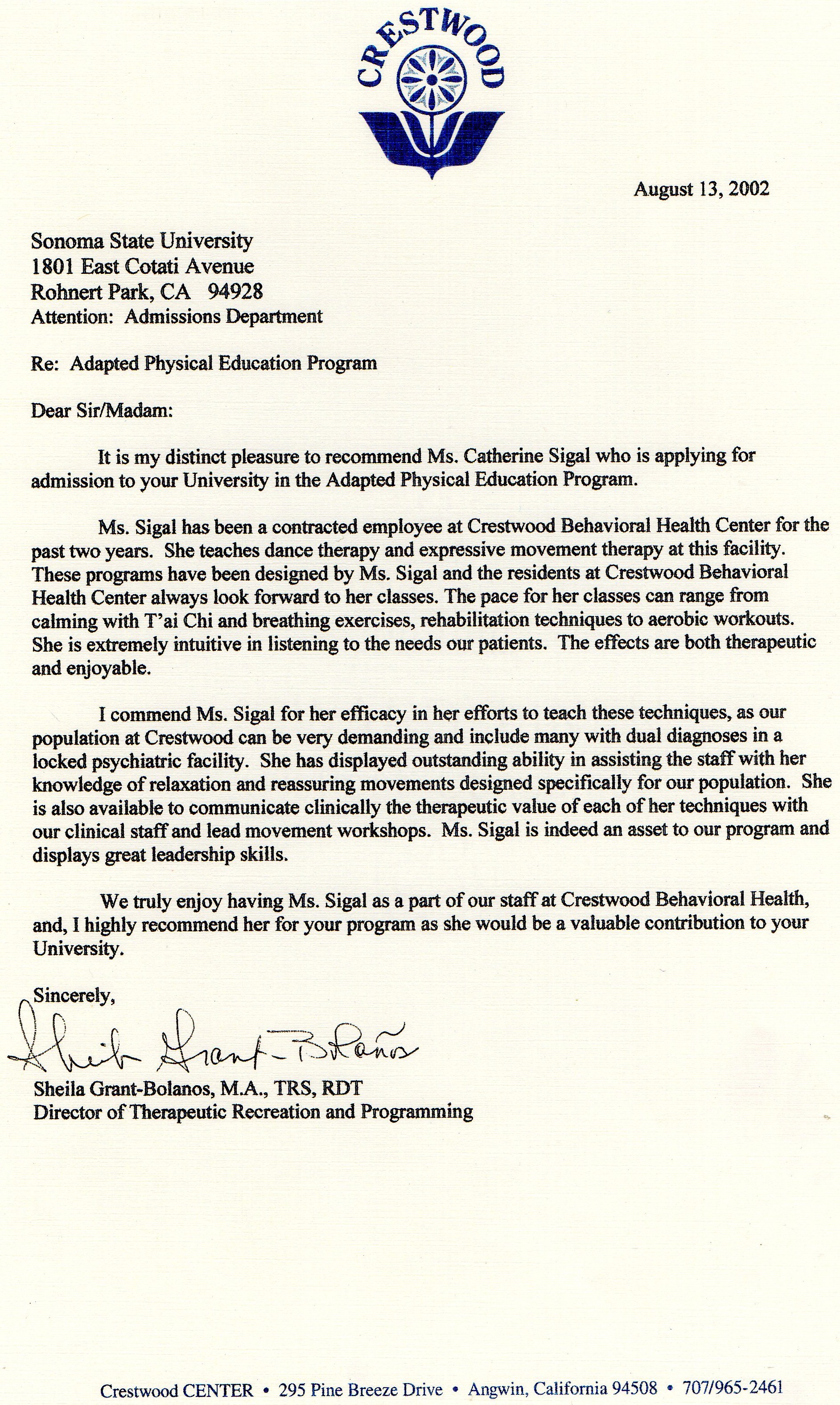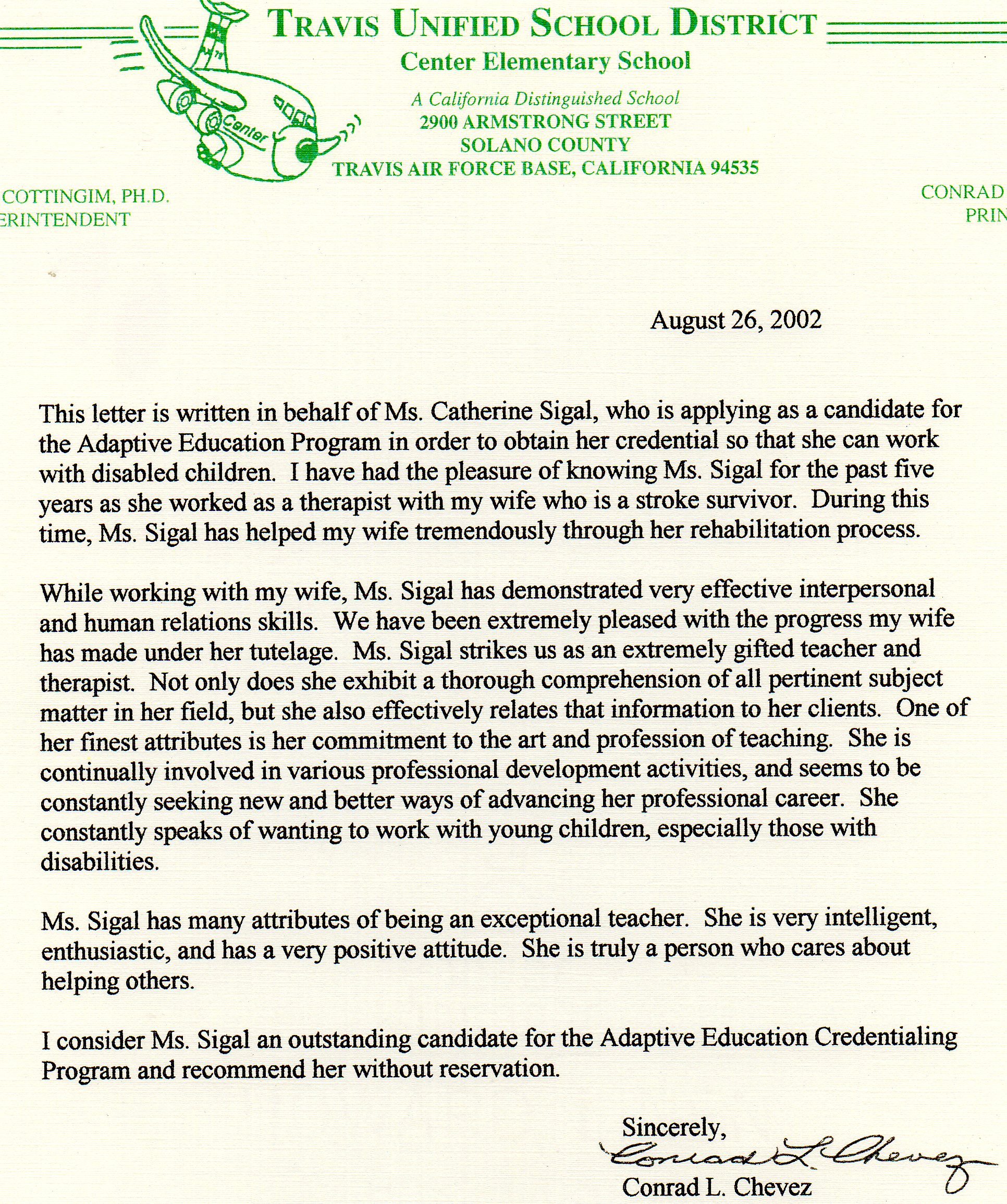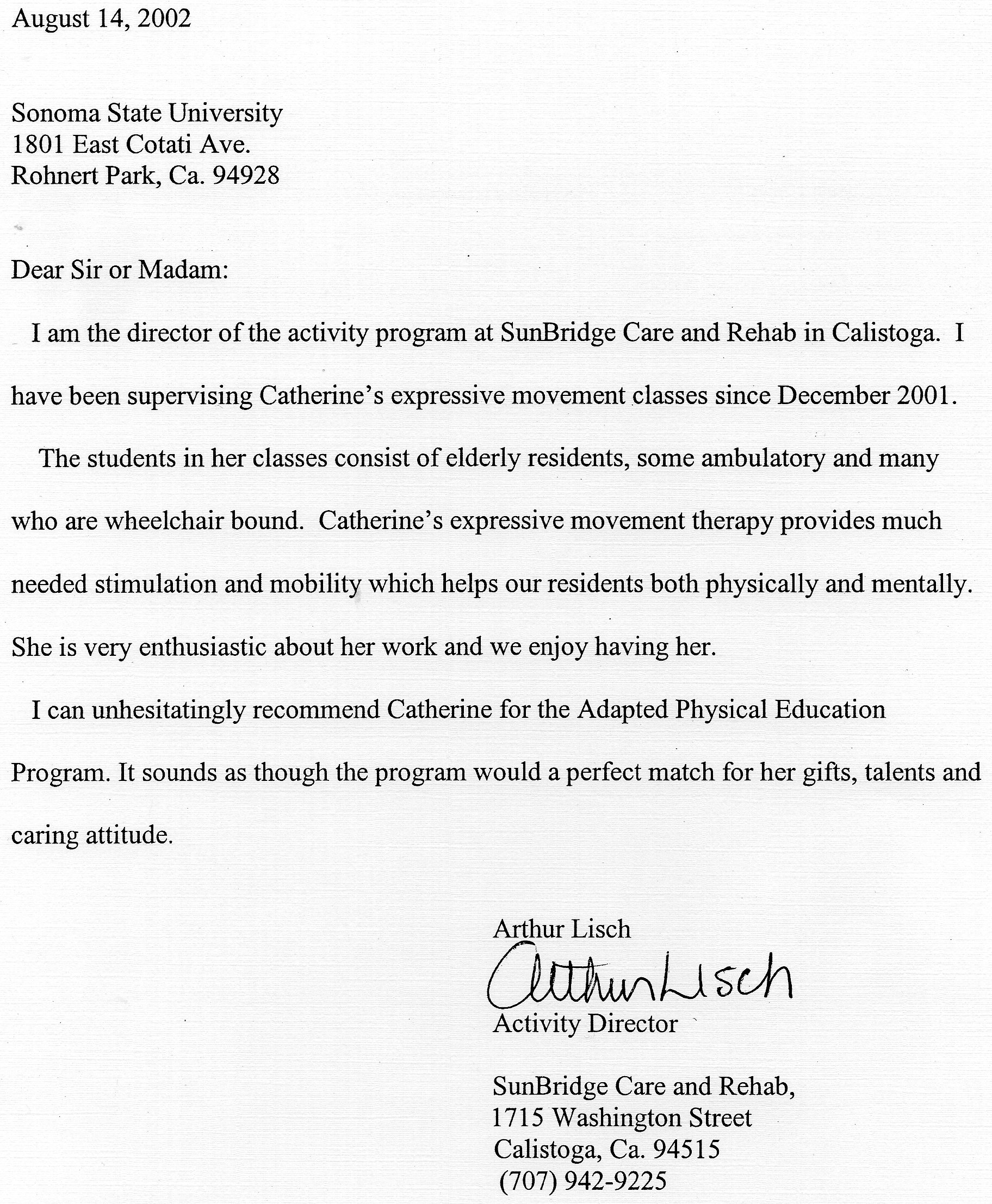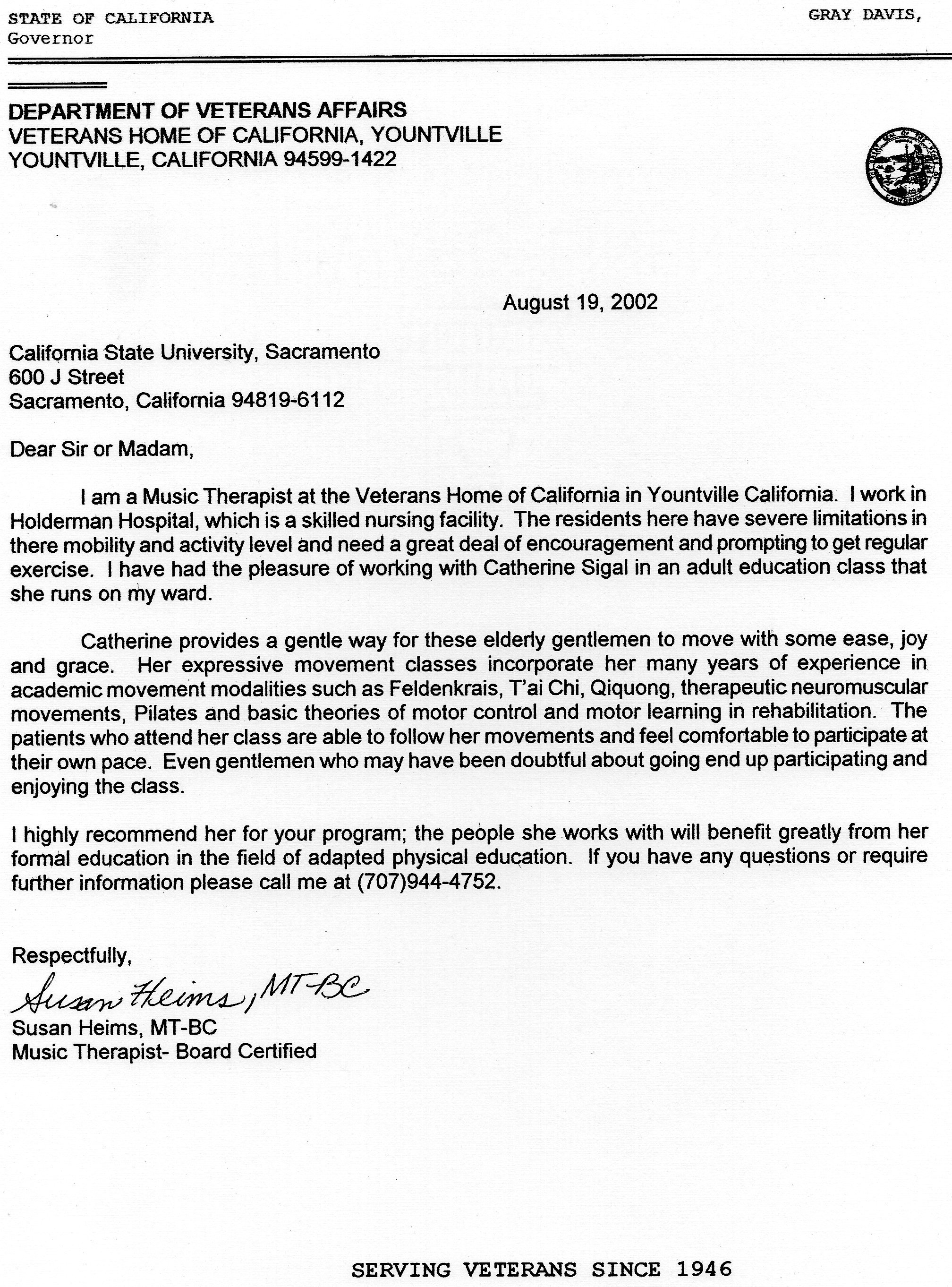 "To whom it may concern:
I am writing this professional and personal recommendation for Catherine Thomas, who worked with the resident of Celebrity Haven. Catherine was referred though physicians and friends by individual families whose elders were in our care. The residents she worked with were over the age of ninety and had various difficulties including Parkinson's Disease, trembling, stroke paralysis, gradual immobility and difficulty swallowing. The responses to her Movement Education work was immediately successful. I think it was her gentleness, humor, skill in neurology methods, respect and lo ve for the elders that allowed them to respond so favorably. Catherine was very responsible communication with the staff, reporting to the family and interacting to the medical doctors for progress. Her hands, when they touch the resident, they become responsive and improve their conditions. When an elder is now well, the whole family suffers. It was really a pleasure to have Catherine with us at our facility, her work is exceptional and I do not hesitate recommending her for Employment,
Sincerely, Balin Vittebro"
Client Photos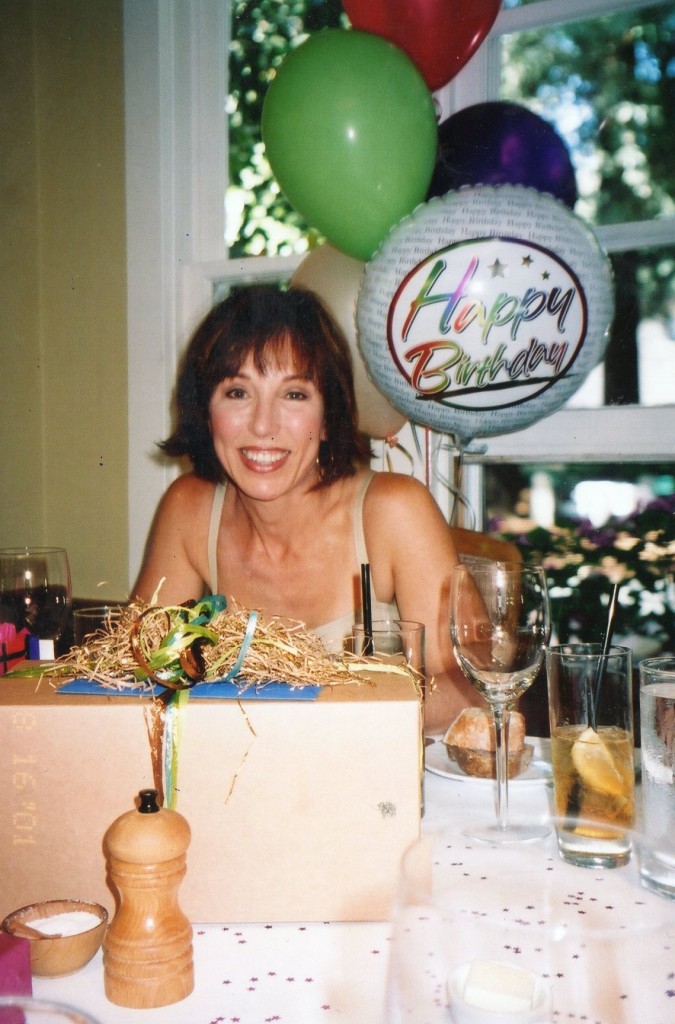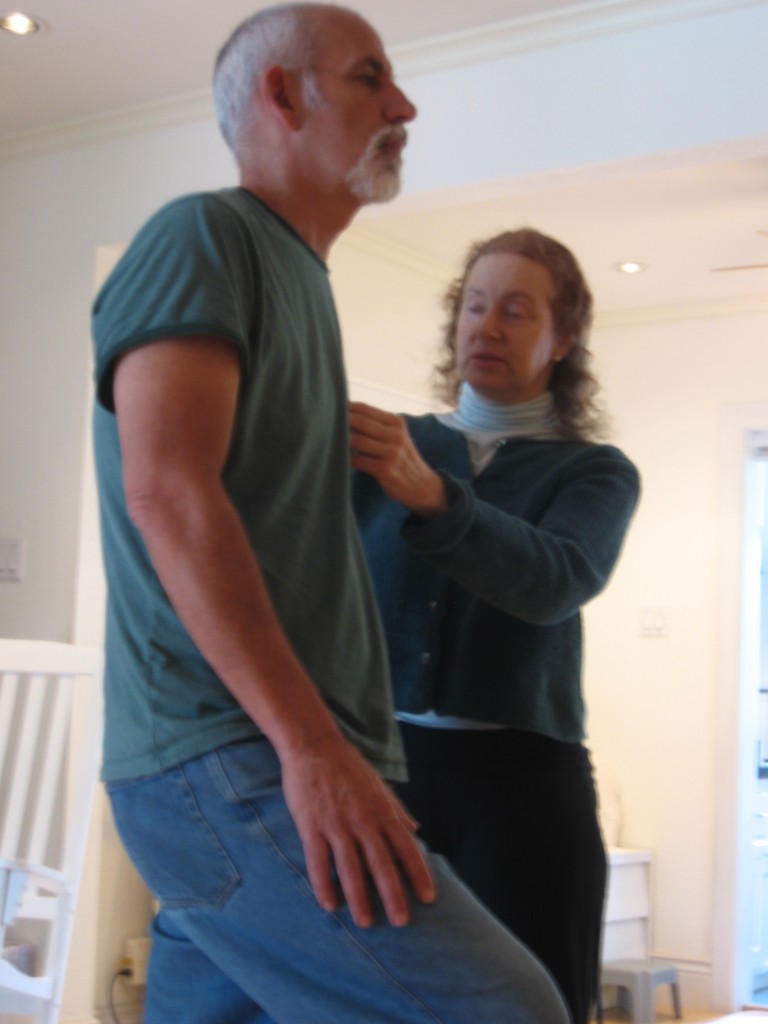 Comments are now closed.